Mabeline Gidez's workshops all require you to bring needles, 6 lb fireline thread, and scissors. (You should also bring magnifiers and lighting if you typically work with those as well.)
Friday, June 23rd 9am-12 noon: Fancy Fan Earrings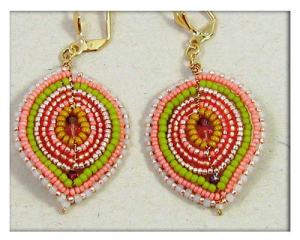 Add a bit of boho chic to your wardrobe with these fancy fan earrings!
Use wire, seed beads, and a few little crystals for a hint of sparkle. Knowledge of basic wire skills is helpful, but not required.
Member Price $34.00, Non-Member $68.00 + Kit Fee $11
Friday, June 23rd 1pm-4pm: Grace Ring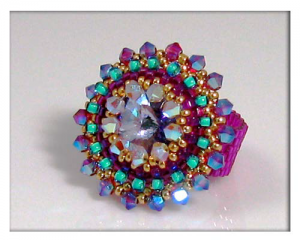 This creation was inspired by the beautiful and elegant late Grace Kelly.
A dazzling crystal rivoli offset by crystals adds just the right amount of red carpet magic!
Member Price $37.00, Non-Member $74.00 + Kit Fee $17
Saturday, June 24th, 9am-4pm: Queen Armour Bracelet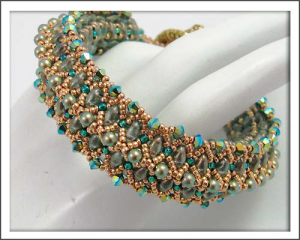 This piece is both substantial and striking – fit for a Queen to wear at any battle!
Learn to weave a tubular base of SuperDuo beads which is beautiful alone. Then, embellish it to make it truly spectacular. This design can easily create two different looks.
Member Price $66.00, Non-Member $132.00 + Kit Fee $50
Sunday, June 25th, 9am-4pm: Slightly Paisley Necklace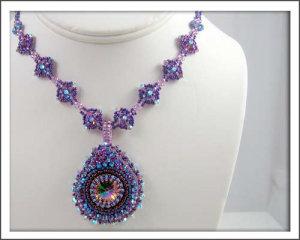 Hippie Chic meets Victorian! In making this necklace you will build on the basics of bead embroidery to create a custom, teardrop with a rivoli center surrounded by spiky crystals.
You will also create a delicate beaded strap complete with beaded clasp.
Member Price $62.00, Non-Member $124.00 + Kit Fee $42