The mission of the Rocky Mountain Bead Society is to: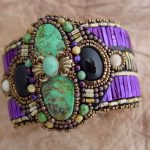 Learn: Educate members about the history and the future of beads and beadwork
Share: Expand the knowledge and skill sets of members with quality educational programs and thru knowledge sharing
Create: Facilitate the use of current and new techniques to encourage artistic growth in our members
Enjoy: Provide a relaxed and supportive environment which nurtures creative development and expression
Bead Society Events:
Registration for Beki Haley's july workshops is open!
Register to be a Bead Ambassador at the Fair
Membership
Not yet a Member? Click here to join to fun!
Already one of our wonderful Members? Click here to renew or edit your profile.
Be a RMBS Bead Ambassador! Click here to find our more.
Support our Business and Artisan Members: Click here to view the member list.