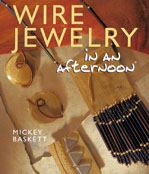 Thinking about making some wire jewelry, but don't know where to start? This might be just the book for you. As a non-wire worker I found lots of guidance in the tools and equipment section and also in the general instruction section of the book. There were two instructions that were invaluable, such as, "Making a Perfectly Symmetrical Twist" and "Constructing a Flat Coil Maker."
There are many samples and instructions showing how to make simple earrings, glasses neckholders, lanyards, and wrapped wire jewelry. There are also several simple, but very effective pieces using cut and folded screening–called gold screening–in conjunction with beads and wire. I thought these were wonderful pieces and very elegant. There are many bead dolls with directions that wouldn't be too hard to modify and redesign into your own piece of jewelry. Another idea was using wire with the gold screen or with a beaded amulet or other piece. Everyone knows that usually the join between beads and wire can be tricky, but here is some wonderful advice.
I think this book is great for the beginner in wire working. It should broaden their horizons and pique their creativity.