By Carol Wilcox Wells
Lark Books, Asheville, NC, $27.95, 2002
(800) 284-3388 or www.larkbooks.com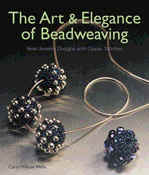 Carol Wilcox Wells has done it again. This is indeed a wonderful book, just as her first hardcover book was wonderful, although I like this one even better. Why is that, you might ask. I think it has to do with the arrangement of the book and the photos included with the directions and examples. Even the introduction was wonderful. I am one of those people who read Introductions and Forewords and learn a great deal of color and background by doing so. I would urge you to do the same with this book. The book begins with the Introduction and a material, tools and tips section then jumps into the heart of the book–things you might want to make.
The making things part of the book is nicely divided into types of techniques. For example, the first section is beaded beads. This is not a technique that has ever appealed to me personally, but after going over this section, I can see where some people are fascinated by it and can even understand that fascination. It isn't mine yet, but who knows, at least I understand it more.
The next section is the Chevron Chain. Now, many a small bead person is using this technique, but may not know it. When I read portions of this section I was struck with how this is related to African, Native American, and now the Russian beadwork. All of these methods are related to my eye and I hadn't seen it before. Now, that I see it collected in one area it makes perfect sense to me that this is a technique that many cultures would have begun with in beads.
Crocheted ropes are popular right now. I learned a lot with the computerized Ôdrawings' of technique that in this section and how color and pattern can be unique for this technique.
Herringbone stitch has raced through the beading community in the last year. The section on this technique is quite thorough and wonderful. I particularly liked the photography of samples that were included in this section.
Our old favorite peyote stitch is given new sizzle and zing in this section and on page 128 is a project that appeals to the Gypsy in me. I have to make it. The last section is about spiral ropes. These are a wonderful, although somewhat tedious, to my mind, way of making the strap for an amulet purse. In this section, learn how to make the spiral ropes and variations that make them a stand-alone necklace. It gave me new insight on this technique. While I probably won't make a stand-alone necklace for myself, it is a good idea for something to use as a springboard idea for a sale or to use with your own modifications, for a strap for a tropical or fruit or flower theme amulet bag.
I love Carol Wilcox Wells' friendly and informative style, the wonderful graphic text, the glossy and lovely photos. Really, I just love this book.