50 More Designs for Beaded Jewelry




By Jean Campbell




© Interweave Press


www.interweave.com
$18.95
Book Review by Mary Alicea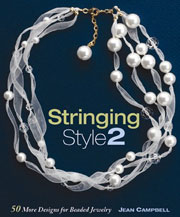 Bravo Interweave! The projects in this book are organized, well photographed, have easy systematic instructions to follow, and have some of the most exquisite designs. This is a complete book with ideas, resources, and instructions for the very novice beader to one looking for more of a challenge.