By Mary Parker
Lark Books, Asheville, NC, $17.95, 2002
(800) 284-3388 or www.larkbooks.com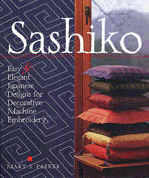 This is another soft cover book I garnered from our Bead Bazaar Book Table. And I like this book very much. Since I missed the May meeting with Sashiko and Dustin as the program, I had to tell you about this book.
I don't think I've ever read a more fascinating history section. If you aren't the kind of person who takes time to read Introductions, may I suggest you do so. In fact, I'll include a short direct quote that may show you why I think these things are important to read.
"My mother was an artist and teacher. During his working career, my father was a time and motion engineer and a research and development shop supervisor. . . . However, by some stroke of good fortune, I seem to have inherited an aptitude for both their sets of skills along with a knack for integrating them." And that is just the first paragraph of the Introduction. The history section is even more fascinating, as it explains why and how Sashiko came about and its evolution into the design process it is today. It even explains why the designs are so deeply satisfying on an emotional level for those of us who are moved by design–and in the end we all are. This history section drew me in far better than any novel. I think the author has a gift for making history live. That isn't something you'd expect for a book on how to do a technique, just an added bonus.
The how-to sections are for use with a sewing machine, which many beaders don't even want to think about using. But I can see these designs beaded or with your own interpretation. And then there is the pattern section, which I think you could use as a jumping off point. For instance the Kasumi (mist) pattern on page 102 really appeals to me, as does the Untitled Hokusai # 2 on page 104. On page 132 is the Tsuru (Crane), which is an original pattern by the author. What inspiration on these many pages. All the designs have appeal on several levels.
For the modest price, I think this book is one bead people can get a lot of use from.