By Nancie M. Wiseman
Interweave Press, $19.95 ($5.96 s&h), 2003
(800) 272-2193 or www.interweave.com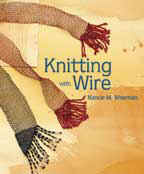 Knitting using wire may seem a little off the wall for bead people, but this technique uses beads, too. For fiber people, wire is a bit of a stretch, but an interesting one. One of the techniques covered in the book is what is called "Viking Knitting," which is more of a wire working technique using an Allen wrench as the knitting tool. This is a fun book.
The size is small for a book, just 6 1/4″ by 7 1/4″, soft cover, a picture of Nancie Wiseman on the back, and 30 projects for hand, machine, and/or Viking knitting. Not bad for all it contains. The Introduction is so humorous. Nancie talks about knitting with all kinds of wire determined to make a bowl for her first knitting project. She has a section where she shows (with line drawings that are computer generated I think) how to make findings for the finished bracelets, necklaces shoes, sweaters and stockings made from wire.
The section on Viking knitting is really intriguing with a little history and all the tools you'll need or want to make. Looks like so much fun. And what about knitting with wire on a knitting machine? Well, the projects include scarves, wastebaskets, roses, and necklaces.
This is an interesting book. It incorporates things that fiber and bead people will enjoy learning about and trying. This book is included in the Rocky Mountain Weavers' Guild library.