By Sharon Bateman
Interweave Press, $21.95, November, 2003
(800) 272-2193 or www.interweave.com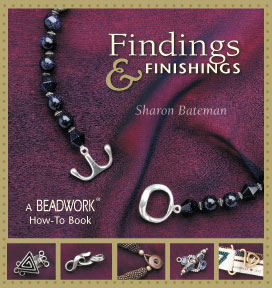 Findings and Finishings is the book to use for the many options available for that final touch on beadwork. It is a great book for that final inspiration when you have a piece that cries for more for finishing it right. This book isn't so elitist that you will be expected to forego using purchased finishings. Nor is it so pedestrian that you can't get an inspiration for making your own finishing. Even if you like using small beads there are nice toggles and other connectors to make.
There is advice and picture of "how-to" ideas for making beaded and wire bails or using a cabochon for a connector. Truthfully, it isn't anything I'd thought seriously about using either, but it makes great sense when you've put your heart, soul and money into making an outstanding piece to take the final step for finishing it off with pizzazz. As a person who feels intimidated by wire, I was encouraged by this book. As a person who uses a lot of little beads I was gently kicked in the tush to remember that I could do something different.
I like that this book gave so many options. There are knots, beading techniques, wireworking basics, stringing techniques, and a short lesson on which beads to use and when to use them. Interweave Press does it again.