© Kalmbach Publishing, 2007


www.kalmbach.com
254 pages
$29.95
Book Review by Betty Stackpole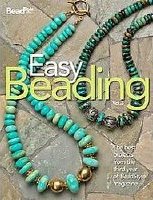 The best projects from the third year of BeadStyle magazine. Cathryn Jakicić, an editor for BeadStyle, says "This book is like a high school yearbook, in that it is full of different personalities and memories." There are projects for the beginners as well as the experienced beaders. Fifty-two contributors bring their talents and personalities to the six sections of the book: Pearl and Shells, Glass and Ceramic, Metal and Chain, Gemstones, Crystals, and Mixed Materials. Each project has a colored step-by-step instruction, a detailed supply list, and an editor's tip, plus a list of short cuts on how to make a beader's life easier. For example, who would have thought of using a wide-rim glass bowl or vase on which to display or hang your earrings. And the inside can be used to hold your earings that need repair or have lost a mate. I would buy this book because of the collection of matching necklaces and earrings. And, if you have never tried making something with crystals or gemstones, this book is for you. It also has a variety of bracelets, rings, ornaments, and more. I really liked the fact that at the back of the book there is a short write-up about each of the contributors, including their websites.