By Barbara L. Grainger
Barbara L. Grainger Ent., $24.95 (plus $3.50 s&h), 2000
Barbara L. Grainger Enterprises,
PO Box1902, Oregon City, OR 97045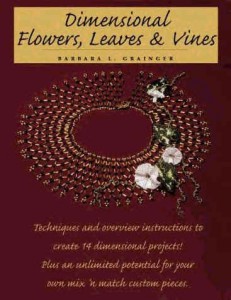 I have to tell you I love this book. I've always like Barbara's method of teaching (from articles and the like) and her ideas of fun things to bead. This book is full of both. That's a good part of why I love it. The next part of why I like this is that her brain must be organized to function in the same or similar way mine is. Her book is arranged in a way most books aren't and that works for me. She begins with brick stitch techniques, then netted techniques, then miscellaneous techniques. Then the focus shifts to project overviews, more miscellaneous techniques and finally peyote techniques with the last thing being basic techniques to remember. For some people this may be a hard way to do bead work, but the techniques in all sections and the projects too, are all cross referenced and that is what makes it so workable for me.
I forgot to mention that this book has a lot of unique techniques with ideas of how to mix and match and encouragement to do just that make them your own unique projects. I usually don't care too much for netting techniques but I think I'll try some of the netting ideas with some of the other dimensional techniques.
Barbara, in her acknowledgements section tells us that Joyce Scott got her into the dimensional idea with the words: (spoken about a piece that Barbara had done) "It's beautiful, but it's soooo flat!" How many times have you thought the same of a lovely amulet or loom work. I know I have. It doesn't have to be. With the techniques Barbara encourages and shows you, too, can become the dimension queen of your bead world. Come and play. Good book worth the money.