By Jacqwui Carey
Devonshire Press Ltd., $29.95, 1994
(617) 479-5139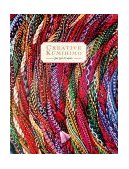 I picked this soft cover edition from the Book Table at the Bead Bazaar this year. It seemed like a lot to pay for a soft cover edition, but oh, my, it is a wonderful book. Anyone interested in making braids to finish an amulet bag, as decoration to hang a nametag from or as embellishment to an ocean scene or knotted branches would love this book.
A couple of the things I like best about the book are the full color photo examples, the ease of reading a simple pattern growing into more and more complex patterns and the "how-tos" with pictures and drawings as well as the written word. There is a section on tying knots that I think is just wonderful and illustrated more nicely than most books. The photos of the marudai with bobbins and weights is very clear and has a beautiful braid in process hanging down from the center and keeping the bobbins taut. There are explanations and pictures of the process and even (I have no idea how they managed this) the rhythm needed for making the braid. What really makes this book grand are the charts showing the way each bobbin travels in the grids and patterns and showing each step that the hands take in moving the strands to make the braid. I think this book is much clearer on this point than the other book on Kumihmo that Jacqui Carey wrote, Beads and Braids. I like this book better.
The setup showing the grid, the movements and a drawing of the finished braid and a photo of the braid in process is great too. These systematically categorize the braids into round, flat and square plus the number of strands used in the braid. There are whole sections on hollow braid and tassels that are wonderful additions to the braids you'll make. The original price of this book seems large, but the result is great. This is a good book for your library.