By Jean Campbell, Beadwork Magazine
Interweave Press, $16.95, 2003
(800) 272-2193 or www.interweave.com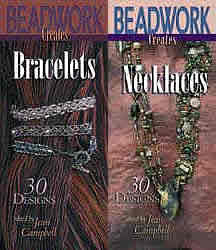 These two books are hardcover books that are a nice size. Measuring 4 1/4″ by 10″, they have a lie-flat binding (which I thought was just a tad stiff) and will slip into a briefcase, bag, or bead case with no trouble.
Each book has 30 designs with a full color picture of each project from the artists who created the design. These are designs that use the usual stitches and some of the more exotic stitches. To me, the right angle weave stitch is so versatile in its uses, and that is certainly true with this book. I have always wanted to knit or crochet with wire and after reading about it in these books, I sat down and did it. Great fun to do and I added my own touches that changed it to my unique necklaces and earrings. I really liked the many different techniques used in the books, such as stringing, peyote stitch, right angle stitch, loom work, herringbone stitch, netting stitches, wire working, and crochet. I think this really reaches across the many interests practiced by any member of the RMBS.
The necklaces and bracelets are listed at the front of the book, but you really need to see the full color photo of each one before you reject any of them out of hand. You might think you'd would never want to do that, and then look at the photo and think something more positive. The photography is mouthwateringly good. The first item on the text page is a Materials List, followed by a tools needed list. Right away the Ôhow-to' part is next. At the end is the finishing techniques section. It is straightforward A-B-C or 1-2-3 in presentation. Then at the end of the book is a section of "Tips and Techniques." These are a nicely presented with wonderfully wrought drawings and nicely written text.
I've told you I like the size, the photography, and the straightforward presentation, but I've said very little about the projects. One of the nicest facets of the book is how quickly many of these projects work up. If you make an amulet bag you know you have a lot of work ahead of you, but a necklace or a bracelet is a snap by comparison. On almost every item there is an added bonus to learn or, at least, think about such as making a different type of closure. Lots of good information in two compact books. They are available in the RMBS library.