Edited by Jean Campbell




© Interweave Press


www.interweave.com
$16.95
Book Review by Mary Timme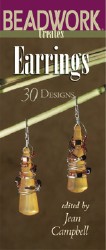 This book was very disappointing to me, and I asked other knowledgeable people in the field what they thought so I could get a different perspective. They were somewhat disappointed in the photography, but thought it was a good book for beginners as there are stringing techniques, bead weaving techniques, and the very beginning of wire working techniques. Perhaps, I have become jaded with excellence and have no eye for what the beginning beader needs, for when that was pointed out I had to agree. This book would be very useful for someone who knows almost nothing, but wants to get started with some ideas for instant gratification. I think that is the niche for this book. I was really disappointed in the photography of the items, not because most of it was bad, but because it was so totally uninspired. Usually this is not the case with Interweave publications.
For beginning inspiration and technique for beginners this is a good book. This book will be in our library due to the generosity of Interweave Press.