Jean Campbell, Editor, Beadwork Magazine
Interweave Press, $16.95, 2003
(800) 272-2193 or www.interweave.com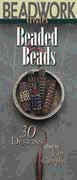 This book presented me with a real quandary. I don't do, nor understand, beaded beads. You can see the quandary, right? But there are lots of people who do this technique and even understand it. I thought about getting one of them to review the book but in the end, I decided I could do this.
The book is the size that I think is nice, 4 1/2″ wide by 10″ tall, so it slips into a tote easily. The format is of 30 projects, just like the companion books of Bracelets and Necklaces. The photography is luscious. The projects take from 30 minutes to about 4 hours. The one project that takes over 4 hours is a sculptured bead with turquoise chips, cube beads, and seed beads. Sounds intriguing, looks intriguing. There is a wonderful little jack-o-lantern bead that makes me almost understand this form of beading and I almost want to try it. Our very own Nancy Zellers is on pages 11-13, with a "Golden Gumdrop" bead. This bead made me think of lemon drops and oranges, looking good enough to eat.
There are many different beads made with several different techniques, that I'm sure beaded beads people will really enjoy, be inspired by, and want to make. Even I'm a little interested in making the jack-o-lanterns, so you know the book must be good. This book is available through the RMBS library.