30 Designs
Jean Campbell, Editor, Beadwork Magazine
Interweave Press, $16.95, 2003
(800) 272-2193 or www.interweave.com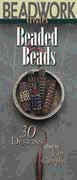 This is another in a series of books from Interweave Press in the 4 1/4″ x 10″ format with 30 designs for beaded bags. There are a lot of crocheted and knitted bags in this book, plus some you would use as evening bags for posh settings. That is a lot of ground to cover.
The samples and directions cover a lot of variety. Some are similar to a beaded amulet bag with wonderful shading and dimension. Others use a made or purchased bag and go from there. Some of the bags are beautiful and practical. Some bags are about tradition in the Native American way with unique techniques.
My favorite? Well, it has to be the tooth fairy bag! This one is so off the wall, darling, and different it screams whom is the maker, plus it made me reminisce about the time when my children would have loved this sort of thing. (No, I'd never picked up a bead at the time. We weren't even on speaking terms.) And for wire workers–don't feel left out–there is a bag featuring wirework.
There are many techniques as well as helpful hints for these bags. I hope you'll check out the copy in the library.