A Beadwork How-To Book
By Arlene Baker
Interweave Press, $21.95, 2002
(800) 272-2193 or www.interweave.com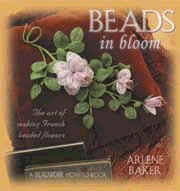 This Beads In Bloom book is about the art of making French Beaded Flowers. Why it is called that is lost in the mists of the past. There is a lot of contradictory and conflicting information as to the reasons for the name "French beading" and is one of the areas covered lightly by this book.
This is really a how-to book. From about page 8 to the beginnings of page 62 the writing is all about techniques that are used in making the French beaded flowers and stems. It is amazing to me, as one who has never done this technique, that there is so much to learn. It all begins with, " . . . the counting and measuring of beads." There is quite a bit more to it than that, but the steps begin at the very beginning and gradually get more involved until you have made a flower with loops, covering the stems in a variety of methods and gone on to more advanced techniques. In this process you've learned to always twist your wire in the same direction at certain steps in the process, to not cut your wire from the spool until you've finished with that loop, to leave your wire stems long enough, since generosity at this step saves problems later. Further along in the book you learn about dome centers, lacing, and elongating flowers. Like eating an elephant, learning to do French beading is done one step at a time.
The illustrations are phenomenal. This is an off shoot of the beading craft that has taken a back seat for a long time and is coming into its own again. The gallery of photos of work, some by the author or of items in her private collection is wonderful. Each technique has a color photo that demonstrates that technique, sometimes combined with other techniques, would look like in either a finished new or antique product. It is like having history sitting on the pages while you are learning.
For anyone interested in French beading or making beautiful objects with beads, I would recommend this book most highly. It is a paper bound book that can be taken to most print shops where it can be wire or plastic ring bound. I always do that with how-to books when possible as they lay flat much easier that way. It helps me when I'm learning a new technique to not have to fight the book. The fee is quite reasonable and publishers and booksellers have a fit with books that have these bindings before they are bought. I appreciate that Interweave Press leaves a nice border that makes this possible for their paperbound books to go through this process.
Our RMBS library is richer for having this book from Interweave.