By Deborah Cannarella




© Interweave Press


www.interweave.com
$21.95
Book Review by Mary Timme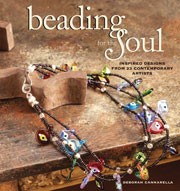 What happens when you decide to print a book with lots of different views about what is and isn't a soul? You get a book who has several authors and an editor who talks about what beading means to them as it shows their works. The book is divided into several chapters such as Protection, Healing, Strength, Good Fortune, Prayer, Bonding, Remembrance, and the like. Certainly it is politically correct as well as offering a fascinating window on a moment in time of each person's process. There are 31 projects that you may choose from to try and a materials list for them. If you don't know how to accomplish the project, there is a section on how-to and drawings for how-to on processes for each of the projects. The gallery is an interesting mix of philosophy and process, and projects to inspire you, without directions of course, for the gallery offerings. There is a wide mix of techniques and of spiritual expression in the book. I think you'd enjoy at least looking at the book in our library.