By Cheryl Assemi, Carol Sweet, Cathy Thomsen, and Connie Bell
Beadgang Publications, Fresno, CA, $19.95, XXXX
4721 W. Jennifer Ave., Ste. 5, Fresno, CA 93722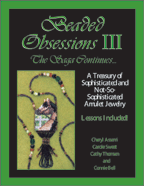 This is a pattern book with some instruction included. When these 4 people (the Beadgang) get together and self publish a book, I usually enjoy the book. They have simple patterns that can become more difficult with the finishes and fringes they add. They also have a nice way of taking a subject I'd thought would make a good design and make it better than I would have done. I like that in a group of people willing to share. The amulets purses/necklaces featured in this book are on the small side and therefore don't take a long time to complete. I like that in a book that I use to make small items that sort of fill up the void between my own designs taking shape in my mind and those ideas coming to fruition. These small purses/necklaces fill a time that I use for resting my creative self and doing something satisfying and at the same time in filling.
The difficulty in the designs comes from the ragged edges that follow a flower or a theme such as oceans or animals. This in turn gives some relief to the flatness of most peyote work. Each fringe technique has something a little different that helps trip my mind into more creative channels with fringe. Probably one of my favorite things is the "Boo Bear" amulet. It is a teddy bear with a pumpkin in his middle and is so cute. I hope I get it made one day. I also like the teapot, the ocean designs included. There are other neat designs, but these are my personal favorites.
The instructions included are for Flat Peyote Stitch, Circular Brick Stitch, Adding on for Unusual Shapes, Connections & Adding Thread, Netting, and what they call "That Knot!" It was interesting to me that the knot didn't work for me until I switched the "old" and "new" threads around from the diagram, but maybe I wasn't looking at it correctly. I do that sometimes.
I don't often review "pattern books" anymore. But this one is good and I wanted to add my praise of this book. It is fun and would make you smile as you made the items inside.