By Amy C. Clarke and Robin Atkins
Interweave Press, $21.95, 2002
(800) 272-2193 or www.interweave.com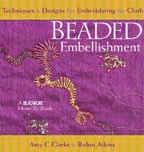 It is difficult for me to be anywhere near objective about this book. First of all, I admire and have taken classes from Amy Clarke and Robin Atkins. I feel I've gained so very much from them as teachers, I'm forever grateful to each of them. Next reason is that this is about Bead Embroidery, one of my most favored ways of doing beading. Still another reason is that it covers and shows the points I loved the most while taking their classes. Am I likely to see anything wrong with this book? you could ask. The answer is, nope! Not because I'm totally unable to see anything that could have been wrong with this book, but rather because it is so very well written. Anything I would have changed is: nothing. I even loved the photos of Amy and Robin on the back.
I started at the Introduction and swept on through the book. As Amy has written, "Robin Atkins and I have joyfully filled this book with practical information . . . " I happen to know that Robin did a lot of the history section and it is marvelous. Robin Atkins speaks from experience having spent months traveling and living in what we used to refer to as the Balkan nations. Not that that is only the only place she has traveled, but she has captured the essence of what she learned in her travels in a riveting narrative voice.
The next section is entitled "Getting Started" and it is a section that you'll want to keep for future reference. In my teaching I often tell my students that anything they can do to keep healthy is a good thing, as art demands a strong healthy body. This concept is covered in this section. The techniques section has photos, line drawings, cross sectional drawings, and wonderful text to back each technique. Masterful manipulation of something that could be really dry and uninteresting makes this fascinating reading. The Projects section has equally good directions, supplies list, materials lists and illustrated directions-Ñin case you forgot where the technique is in the preceding chapter.
My favorite chapter is "Designing for Bead Embroidery" and the reason is simple. Amy and Robin have distilled their teaching philosophies and main points they pass on to classes onto the printed page. This section is about to spill into your mind with gentle encouragement and possibility. It begins, in a side bar arrangement, with why to read the chapter. According to the authors, we begin and spend a great deal of our day designing. Putting designs into bead embroidery is a natural outgrowth of what we all do each and everyday with out thinking about it. Who knew it was so easy? This section has so much to help you in your growth as an artist who uses beads.
The gallery is spectacular. I was honored and pleased to be included in this section and felt so humble when I saw all the delicious work by so many talented people. Quoting from the press release from Interweave Press, this by Robin Atkins, "In 1988 when I started beading full time, not one beading book was in print. . . . Now, fourteen years later in 2002, there are more than 600 available and more are published all the time." Robin attributes this increase in the number of books about beading to the rise of beading as art and the enjoyment of the hobby. This book will be one you want on your shelf. Until then it will be available from the RMBS Library.