With Claudia Chase
abba dabba Productions, $39.95, 1 hr 44 min
(877) 744-0002 (toll free) or www.abbadabbavideo.com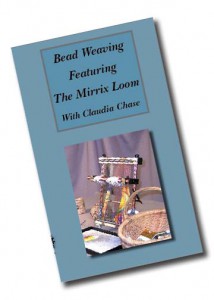 When I first watched this video I was totally struck by how different it was from what I had expected. Of course, I couldn't say what I expected and all I knew was that it was different. When I watched it a second time, I was struck with how much information was in the video.
This video doesn't waste a lot of time talking about things the bead weaver doesn't care about. It gets right down to the necessary tools for making a bead weaving. One of the really nice sections at the very beginning of the video covers the definition of such things as: Warp–the vertical strings attached to the loom, Weft–the string you put the beads on to weave between the warps, Etc. Claudia Chase invented the Mirrix Loom and a friend who is an engineer helped to bring it to fruition.
Then comes the first project: a Bead Soup Bracelet. Again you have to listen carefully and listening with a note pad and pencil isn't a bad idea. This video isn't the one you need to get your warp strung (that is the video that comes with the loom), but there are finesse points about tension and warp choices that you don't want to miss in this video. Also, Claudia talks about the dents or spaces in the springs for different sizes of beads. Most important of all, she shows how to hold the beads in the "V" of the shed and then slip them down. She explains why the first and last row must be needle woven and how to do it. One tip I really liked was tying the first weft thread onto the left side of the loom side to keep it out of the way and still have plenty of thread to make a strong ending tie off to that thread. Or it is conceivable you could have a really long thread left after the tie and store that in a little plastic bag until you were ready to make the footer? And what is a header and footer?, you ask. In fiber weaving this is used all of the time. Because Claudia comes from that background, many of the techniques she uses in beading are from her fiber background. I had heard of the "fiber endings" from my students, but hadn't seen one in beading. Well now I have. It is an archival way of securing the ends with no glue. You'll want to see how to do and try it.
In the second project, "A Bead Soup Purse," Claudia uses different colors of the same size beads. Much of what was covered earlier is gone over again. This time the piece is wider and there is demonstration and discussion of what to do when you think you can¡¯t control a bead string that wide. Because heddles and a shed are used in both projects, there is a lot of information just on bead manipulation in this context. It is good stuff. Stuff you need to know and see. I'd always felt that I was working too hard to get a project done. Now I know I'm not. Watching Claudia fiddle with the beads in the first shed rows (always the hardest part of a project) made me realize I'm doing what needed to be done. That's powerful, ladies and gentlemen! There are also examples shown of using a fiber and bead cord and how to put it on. There are demos of picot edging, how to use a bead spinner, where to use a doll making needle, and so much more.
The best part of the video is the last project, "Weaving A Pastel Cartoon." In this section, Claudia talks about learning to see colors–for example, staring at tree bark for a long, long time until you see the colors actually present in the bark–and then learning color theory. She talks about the freedom of using a cartoon in the gestalt of creating a weaving and she talks about series and how to have freedom within the parameters of the series. And more, so much more is covered.
An hour and 45 minutes seems like a long time when you first read that on your video holder, but this hour and 45 minutes is chock full. The camera work is good. The quality is good. I highly recommend this video for people interested in possibly purchasing a Mirrix Loom. This video is well worth the price plus shipping.