A Beadwork magazine project book
Jean Campbell, Editor, Beadwork Magazine
Interweave Press, $9.95, 2002
(800) 272-2193 or www.interweave.com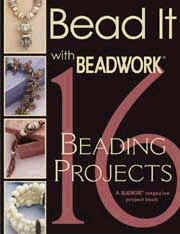 First of all this is definitely a project book. It doesn't pretend to be anything else and shouldn't be expected to be anything else. But it has a nice variety of projects. Some use big beads, bones, metal working, and small bead weaving to create a total of 16 projects to help you get a gift, or something you might want to wear for a special occasion, done, finished, ready to wear.
In the first of the book are some important information sections. I think the one about findings is crucial for beginners–and I count myself a rank beginner in the realm of stringing and wire working. The renderings of basic findings are good, as are the short definitions.
On pages 4 and 5 are some lovely spiral earrings done in 18-gauge wire with some nice drawings showing how to make the spiral, the 24-gauge wire wrap, and finishing the earrings. It is simple, a little challenging and uses three techniques that the beginning stringer would feel good about completing.
The techniques covered are variedÑfrom bead embroidery, strings of multiple stands, making a small bag and many others. There is even one titled "Pennington's Kilty Brooch" that would look great at the Highland Games taking place in various locations this summer and fall. Of course there are brick and peyote stitch projects for those who like working with small beads.
This book is available for checkout from the RMBS library. This is a wonderful increase to our library Not only is this a worthwhile book with varied projects that anyone can do, but the directions are clear and well presented. This is a great book for making those small items for friends.