By Amy Loh-Kupser
i-bead.com, $24.95, 2002
(360) 340-3227 or www.i-bead.com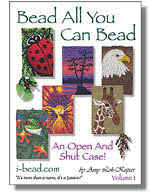 What to use to carry your personal and business cards in, is the question answered by this soft cover and spiral bound book. I love the title of this book, and I like the designs. These are the kinds of things I make to relax and gather my wits and design ideas while making something someone else has designed. It lets my mind rest. This is particularly true of Amy Loh-Kupser's designs since you can use her little pre-printed patterns in the back section of her books. At first go of trying these I always did something wrong in getting started with these patterns. Now, I find using them as the guide is faster than anything else and makes for a perfect evening of relaxing while my mind rests, and my eyes and ears are on TV and my fingers are picking up one bead at a time. Add making something useful and beautiful into that equation and what could be better.
Using the patterns in the back for the "Quick Start" really works for me. Since all of these patterns are 102 beads across and 121 beads down, you could use two of the designs and cut them on the line and tape two different sections together to make a different design. Since some of the designs use oriental calligraphy figures, you might want to add them to a different design. Then let's just say you hate using the "Quick Start" patterns and refuse to do so. That is okay too. Because the designs are printed in larger format in the book as well. So is the finished product. So here you have 14 patterns for card carrying amulet cases that you can put a strap on and wear while you shop. You could even carry your keys and a credit card in there and not need to carry anything but your bottle of water while you shop (have to keep hydrated you know). "Ladybird Duet" is the one I made for carrying my cards. I love that idea of Ladybugs being called Ladybirds.
The book is pretty pricey, but everything is now days and I like the designs in this one. There are very few of Amy Loh-Kupser's book that I don't like though. She also has a kit on her website of the pattern that I made and for some that is a better bargain. To me, this book was worth the price as a place to rest mentally and still enjoy beading.