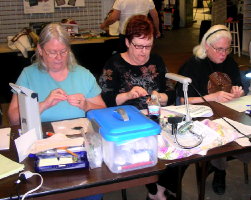 The Rocky Mountain Bead Society
The 2012 RMBS Bead Sampler
Saturday July 21 and Sunday July 22, 2012
Each year the RMBS hosts classes that are FREE to members!
Each member can register for up to 3 classes during the Bead Sampler
Members get a chance to learn new techniques in beading and other creative forms, through a variety of class types
In previous years, we have had classes on Viking knit, spirit dolls, chain maille, metals, seed beads, and kumihimo
The Bead Sampler is going to be great fun this year!
Be sure to check out the class offerings and send in your preferences by June 25!
… Start making plans to attend.
What:
2012 Bead Sampler
Where:
TACtile Arts
When:
July 21-22, 2012
Three Sessions Each Day:
Session A: 9:00 – 11:00 am
Session B: 12:00 – 2:00 pm
Session C: 2:30 – 4:30 pm
See Full Class Schedule
---