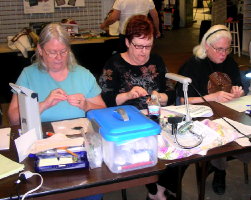 The Rocky Mountain Bead Society
The 2012 RMBS Bead Sampler
Saturday July 21 and Sunday July 22, 2012
TACtile
---
If you are a current member of the RMBS and a teacher who is willing to share your knowledge and expertise, please read on…
The RMBS's Bead Sampler is coming up and we need you! Please open the attached teacher application., fill it out and send it to PO Box 16086, Golden CO 80402. Or just complete the registration on the bottom of this page.
All classes are 2 hours in length.
The RMBS will pay every instructor $50 for each session that they teach (no matter how many students) plus a $12 kit fee for each registered student.
You can teach up to three (3) classes.
You must submit a photo of the finished product for the class (see photo guidelines in the attachment).
The Deadline to return your application is May 28, 2012
---