May 2014 Meeting and Workshop – Melinda Barta 
Saturday, May 17th,  Meeting starting at 9:30 am at the
Embassy Suites
Melinda Barta is editor of Beadwork magazine. In her Beadwork column, Custom Cool, she teaches beaders of all skill levels how to create custom components using beadweaving stitches. Melinda is the author of five books, including Mastering Peyote Stitch and Mastering Herringbone Stitch. Visit melindabarta.com
Melinda will present to us – Dos and Don'ts of Bead Substitutions: A Detailed Look at the Similarities of Bead Shapes & Styles
During times when a pattern calls for a material that's been discontinued, a hard-to-find item, or some of the newest shaped beads, it's valuable to know which beads can be easily substituted for others. This know-how also comes in handy if you're beading on a budget and looking for alternatives to more expensive items like stones and crystals. From tips for choosing your own materials to understanding how the newest shaped beads can or cannot be interchanged, this presentation will help ease those frustrating times when you just can't find exactly what you need, plus encourage you to customize projects to suit your personal taste.
Workshop to follow – Rings Revisited
With decorative edges created with Superduo two-hole seed beads, this workshop's project is a fun spin on traditional tubular peyote–stitched rings. Use the rings as toggle clasps or components in any design.
Member Price = $36.00 includes kit, Non-Member price = $71.00, including kit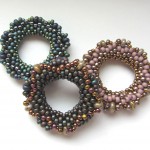 Log in first on the home page
                  for member pricing