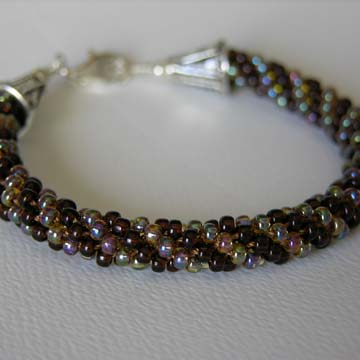 What is Kumihimo beading?
My exact thoughts when I saw Sheilah Cleary's class project in a case at a local bead store. My curiosity "got the better of me" so I turned to the clerk and asked her, "What is Kumihimo beading?" She said it was a form of Japanese braiding. I was intrigued by it, looking even closer to see if I could see how the braiding was done. I couldn't. A month later I was back in the shop, still so intrigued by the Kumihimo beading that I caught myself staring at the piece for a very long time. Forget the fact that the item the Kumihimo beading was attached to was a wonderful lamp work fish. And me being a scuba diver who also loves sea life, how could I resist!? So this time when I turned to the clerk, I asked her if there was any room left in the class. She got out the class book and lo and behold there were two spots left. I called my beading classmate and asked her if I should sign her up for the class as well. She said sure.
A while later with supplies bought and pre-work done we were off to class. What we learned in class (and through some of my own research) is that Kumihimo is an ancient art form of rope braiding and nothing to do with beads. Many civilizations used braiding in their cultures for many reasons and still do so today. Kumihimo is a form of Japanese braiding, which is a dying art in Japan. Kumihimo with beads is a relatively new art form. It's not just your simple braiding whether you are using threads, fibers, or beads. This braiding requires a braiding stool called a "Maru Dai," which is a wooden stool with a round top with a hole in the center and four legs attached to a square base. You are also required to have "bobbins." The Japanese name for bobbin is "tama." The bobbins are measured in "momme" with one momme equaling 3.75 grams. There are bobbins available in many differing grams. You are also required to have counterbalance weights and this can vary from person to person.
In class I used a small fabric bag filled with quarters. (No wonder my beading bag was so heavy.) Your counterweight needs to be filled with items you can take out, as this weight may need to be adjusted. There was still more preparation in class getting the strands tied to the tamas being very, very, careful not to get strands of beads tangled and making sure the center bead was below the hole in the top of the Maru Dai. Once that was done (and I might add it's not as easy as it sounds) for all the beaded strands we were using, it was on to the braiding. We used a "simple" 8-strand beading technique. (There are more complicated ones to try at a later date.) Picture a clock with two strands of beads at 12, 3, 6, and 9 o'clock each. Now keeping the same movement, the left strand at 12 and the right strand at 6 are moved back and forth (just one time). Then the same goes for the strands at 3 and 9 o'clock, then 12 and 6, then 3 and 9 and so on. You will keep this same technique going, being extremely careful not to cross your strands till you get within an inch of using your strand of beads. You are actually braiding one side of the center bead first then the other. Once you get one side braided and ended, then you start over again with the other side attaching those threads to the tamas, braiding, and ending. What you get is an elegant and fairly simple way to make necklaces. With practice this can be a fairly quick technique with good end results and so much fun that, yes, I am hooked on yet another beading technique. I ended up buying the Maru Dai. I used in class in order to make more beaded Kumihimo (and possibly, at a later, using threads and fibers).
Sharron Ruesewald
---
Sharron's excellent review of the Kumihimo class was prepared to fulfill her part of the grant agreement with the RMBS Board. You too can apply for a grant to take a class like Sharron has. Just see any of the Board members for an application. Also, I was in this class with Sharron and she did an outstanding piece of work. I also can vouch for the process she describes and once everything is set up, it goes really fast. ~Rotha Randall.